Capo:

---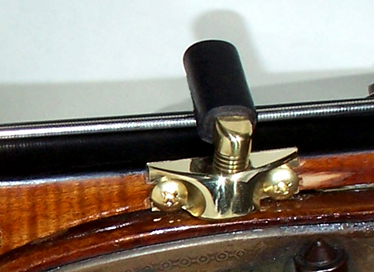 For a proper fit, the side of the extension must provide a flat area in the mounting position 1-1/4" long by 1/2" high (32x13mm) high. Once the proper position for the yoke is determined, drill the pilot holes, spaced 15/16" (24mm) apart. Adjust the number of turns of the arm into the yoke until it looks like the right height, and attach to the extension. See where it closes, and adjust as necessary.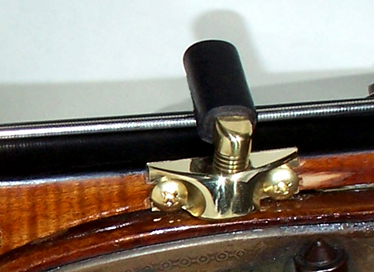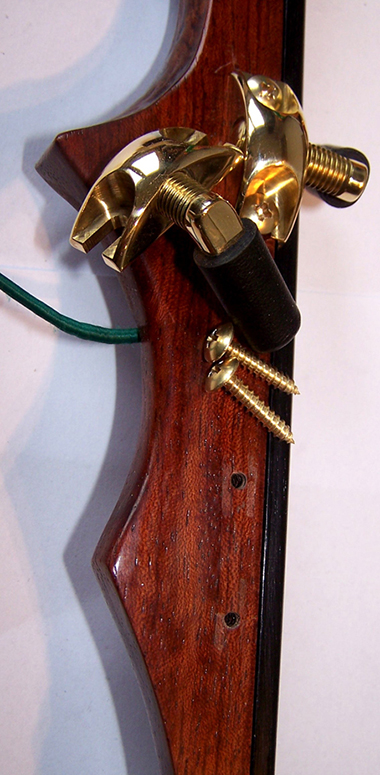 The supplied screws are # 6 gold-plated stainless steel. They are spec'd for strength, and the geometry allows for maximum adjustability. Use of other screws is discouraged. Please use a fresh, high quality, #2 Phillips driver. Other types such as Pozidrive will strip the screw head and make for headaches and some interesting curses. So please be careful during this procedure!
When installing a Capo or E-Stop it is sometimes necessary to cut the threaded stud to length. All parts are made from free machining brass, and can easily be cut/ground/sanded/polished to fit a particular installation. Besides the stud, there are also instances when the yoke itself must be altered. Some extensions are too thin under the Eb to accommodate the full footprint. The yoke contains enough bulk that it can be ground substantially and still retain adequate strength.
---
The standard Capo and E-Stop arms fit extensions that measure up to 3/4" (19mm) from the mounting surface to the string center. If you have an unusually wide extension, let me know, and I can ship longer fingers.
Be aware that the threaded hole in the yoke is angled in two axes. The stud must exit the hole angled away from the string. Capos are shipped with the arms already threaded into the yokes. If you remove them for cutting, be sure to put them back the same way. If you do remove them completely, they may turn too freely when reassembled. Contact me for instructions on how to fix this.
Another issue is the angle of the Capo finger over the extension surface. Some installers fret if they see that it does not lie tangentially over the extension fingerboard. In other words, the finger appears to have too little rake. This is intentional, as the reduced angle decreases string deflection when closing the Capo. In cases of extreme fingerboard radius where the finger would contact the wood before full closure, a rake can be ground into the foot of the Capo yoke. There is enough bulk there to allow for a cut of up to about 10°. For the E-Stop finger, it can simply be bent in a vise to increase the rake. Do not try to bend a Capo finger however.

Wood Spacers
When working with a narrow extension, or if more standoff is desired for any reason, you can get pre-cut spacers in various thicknesses.